September 17, 2023: Kim Addonizio
---
Please note: This in-person reading at the Katonah Village Library does not require registration. Recommended donation ($15) can be paid at the door. Reading starts at 4pm.
---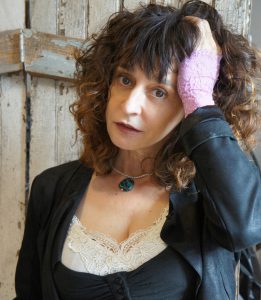 Kim Addonizio is the author of seven poetry collections, two novels, two story collections, and two books on writing poetry: The Poet's Companion (with Dorianne Laux) and Ordinary Genius. Her poetry collection Tell Me was a finalist for the National Book Award. She also has two word/music CDS: Swearing, Smoking, Drinking, & Kissing (with Susan Browne) and My Black Angel, the companion to My Black Angel: Blues Poems and Portraits, a collaboration with woodcut artist Charles D. Jones. Her poetry has been translated into several languages including Spanish, Arabic, Italian, and Hungarian. Collections have been published in China, Spain, Mexico, Lebanon, and the UK. Addonizio's awards include two fellowships from the NEA, a Guggenheim, two Pushcart Prizes, and other honors. Books include Mortal Trash (W.W. Norton), published in 2017, which won the Paterson Poetry Prize. A memoir, Bukowski in a Sundress: Confessions from a Writing Life (Penguin) was published in 2016. Now We're Getting Somewhere was published by W.W. Norton (March 2021). A new book of poems, Exit Opera, is forthcoming from W.W. Norton.
---
A Special Offering:
The Poem's Progress: A Craft Class/Discussion
with Kim Addonizio
Saturday, September 16, 10 am–1:00pm at the Katonah Village Library
Engage | Get Inspired
Look at published poems and talk about beginnings, endings, and the space between.
Cover form versus structure and various kinds of openings.
Learn how to develop your poetry from an initial idea or image (and how to stick to the landing like an accomplished verbal gymnast).
We'll talk about reading like a writer and how to borrow or better, steal!—from poems you love and admire.
To register and reserve your place: Send your check made out to Katonah Village Library with Katonah Poetry Series on the memo line (att. Nancy Barletta, Katonah Village Library, 26 Bedford Rd. Katonah, N.Y. 10536) Please include your email so we can send you the poems to be used in the class. This class will be limited to first 20 people who send in their checks.
Date: Saturday, Sept. 16, 2023
Place: The Katonah Village Library, 21 Bedford Rd., Katonah, N.Y.
Time: 10 a.m.-1 p.m.
Cost: $100