"Small Wonders" Haiku Contest
[A] very deep strain of existential gratitude . . . runs through a lot of poetry. It's certainly in haiku. Almost every haiku says the same thing: "It's amazing to be alive here."
—Billy Collins, Poet Advisor, Katonah Poetry Series
Haiku poetry helps us to discover, appreciate and share with others what's truly extraordinary in the so-called ordinary things and everyday moments of our lives.
spring
an airborne squirrel
open-pawed
a tall straw
color drains
from crushed ice
starry night
the lifeguard stand
tilted back
—three haiku by Scott Mason
Anyone can write haiku! For legions of regular folks in dozens of countries worldwide, it's become not just a pleasurable literary pursuit but also a life-affirming gratitude practice. Come try your hand at haiku with our "Small Wonders" Haiku Contest while also supporting our beloved Katonah Poetry Series (KPS), now celebrating its sixth decade.
WHO
Anyone can participate other than the contest judge, the contest coordinators, and members of the Katonah Poetry Series executive committee.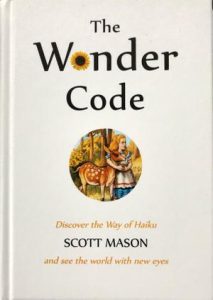 Our judge will be KPS executive committee member Scott Mason, author of The Wonder Code: Discover the Way of Haiku and See the World with New Eyes (2017) and editor of Gratitude in the Time of COVID-19: The Haiku Hecameron (2020). Scott is a former longtime editor with the leading online haiku journal The Heron's Nest and he currently serves on the board of The Haiku Foundation. His own poems have received the top award in more than two dozen international haiku competitions.
WHAT
Each contest entry consists of up to five haiku (written in English) for a single entry fee of ten dollars. The entry fee will go in its entirety (after the PayPal transaction cost) to help support the Katonah Poetry Series. Participants can enter as often as they wish, with a separate fee payable per entry.
Book awards (provided by Scott Mason) will go to First, Second and Third place finishers, plus seven Honorable Mention recipients, as follows:
1st – collections from three of Scott's favorite past KPS readers, plus The Wonder Code
2nd – collections from two of Scott's favorite past KPS readers, plus The Wonder Code
3rd – a collection from one of Scott's favorite past KPS readers, plus The Wonder Code
Honorable Mention – a copy of Gratitude in the Time of COVID-19: The Haiku Hecameron
In addition, all award recipients will have their haiku, along with the judge's commentary, featured on the Katonah Poetry Series website and publicized in select haiku and general poetry venues.
NOTE: As shown in the three examples above, an English-language haiku does not need to conform to the 5-7-5 pattern of the Japanese original since the Japanese sound units (onji) on which that pattern was established are not comparable to English syllables. Generally speaking, an English-language haiku is an untitled poem of up to seventeen syllables (usually fewer) formatted in one to three lines. A haiku is written in the present tense so that the reader can share in the immediacy of its featured moment. Many hundreds of fine examples—plus dozens of illuminating commentaries—can be found in the online archives of The Heron's Nest.
WHEN
All entries must be received by email (as described in the next section) by July 31, 2023 at 11:59pm EST.
Winners will be announced at the KPS reading on September 17, 2023 and will appear on the KPS website by September 22, 2023. (Unselected poems are then free to submit elsewhere.)
HOW
Step One
For each entry (of up to five haiku), go to the PayPal button below to pay the $10 fee. If you want to submit more than five haiku, use the dropdown menu and pay $10 for each additional five. NOTE that you do not need to have a PayPal account: you can simply use PayPal as a portal to pay the fee with a major credit card.
Step Two
Email your entry to smallwondershaiku@gmail.com.
At the beginning of your email provide your name, your mailing address, and your PayPal Transaction ID number. If you would like your name to appear differently than just noted, please indicate that next.
Then provide your haiku poems (up to five) in the body of the email (NOTE: attachments will not be opened). If any poem requires special formatting, please describe that within brackets after the particular poem(s).
Poems must be original to the entrant, unpublished in print or online, and not under consideration elsewhere. Entries will not be returned and no refunds will be given. KPS has first publication rights to the awarded poems and can feature them in future KPS contest promotions. Any entrants contacting the judge regarding their entries will have them disqualified, and the judge must set aside any poem he has previously seen, even if unpublished.
GOOD LUCK, AND HAVE FUN!