The KPS Poet Interviews
KPS 2020/21 Season
KPS 2019/20 Season
KPS 2018/19 Season
KPS 2017/18 Season
---
The Full List of KPS Interviews:
---
Like to read more KPS Interviews? Introducing…
How a Poem Can Happen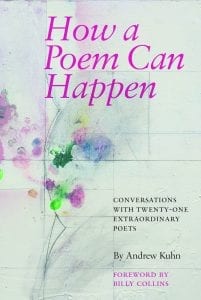 What makes a poet tick, when they're making poetry happen? Many fascinating things, as we discover in this book. Psychologist and poet Andrew Kuhn has asked challenging questions of world-class poets, and the poets in turn have rewarded readers with reflective and surprising answers.
Poet and therapist Andrew Kuhn has been interviewing internationally acclaimed, award-winning KPS poets since 2010, including Billy Collins, Paul Muldoon, Robert Pinsky and Kay Ryan.
This is a fantastic opportunity to learn more about our poets and support KPS. All profits will support the series. KPS is pleased to co-publish this book in honor of its 50th Anniversary.
Available for Purchase
Author Bio: Andrew Kuhn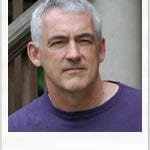 Author and interviewer Andrew Kuhn is a psychologist and poet. He served on the Executive Committee of the Katonah Poetry Series for six years, and on the Board of Trustees of the Katonah Public Library. His poems have appeared in Common Ground, The Able Muse, Vending Machine Press, qaartsiluni, Chimaera, The Mailer Review, The Satirist and other venues. Before getting his professional degree, Kuhn worked as a journalist. He holds a B.A. in Psychology from Yale University and a Ph.D. in Clinical Psychology from the City University of New York.
Andy Kuhn's questions become conversations that, one by one, deeply engage and enlighten. With major poets so forthright about their craft, you'll wish you were in the room… It's simply a gem of a book.—Alexander Neubauer, "Poetry In Person" (Knopf, 2010)
How a Poem Can Happen features the following KPS Poets:
Full individual poet interviews available in the book, or upon special request.