March 26, 2023: Franny Choi
---
Please note: This in-person reading at the Katonah Village Library does not require registration. Recommended donation ($15) can be paid at the door. Reading starts at 4pm.
---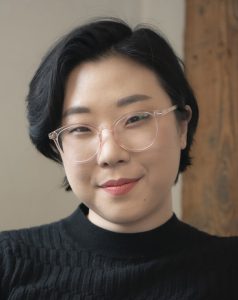 "Poetry helps me to have a conversation with history. It's hard for me to understand the past as a series of events. Poetry allows me to understand history by embodying it from my own subjective position and to track the ways that those imprints of the past show up in my sentences." —Franny Choi
"Choi creates an exhilarating matrix of poetry, science, and technology." — Publisher's Weekly on Soft Science
Franny Choi is the author of several books, including The World Keeps Ending, and the World Goes On (Ecco Books 2022), Soft Science (Alice James Books, 2019), Floating, Brilliant, Gone (Write Bloody Publishing, 2014), and a chapbook, Death by Sex Machine (Sibling Rivalry Press, 2017). She was a 2019 Ruth Lilly and Dorothy Sargent Rosenberg Fellow and has received awards from the Rhode Island State Council on the Arts and Princeton University's Lewis Center. Her poems have appeared in The New York Times, The Nation, The Atlantic, Paris Review, and elsewhere. She is currently a member of the faculty in Literature at Bennington College.
After graduating from Brown University with a B.A. in Literary Arts and Ethnic Studies, Franny developed her writing practice in community with artists and activists in Providence, Rhode Island, where she was a Co-Director of the award-winning Providence Poetry Slam. In 2012, she joined with fellow artists Fatimah Asghar, Danez Smith, Jamila Woods, Nate Marshall, and Aaron Samuels to found the Dark Noise Collective. She continued her studies at the University of Michigan's Helen Zell Writers' Program, where she received an MFA in Poetry and a postgraduate Zell Fellowship.
Soft Science was a Rumpus and Paris Review staff pick and received attention from outlets including NPR, the New York Times, and Lit Hub, which called it "profoundly intelligent work which makes you feel." The speculative fiction magazine Strange Horizons said it "offers fireworks enough for everyone, whether you're excited about the queerness of cyborgs, the nature of consciousness, or the porous boundaries of contemporary lyric poetry." Soft Science was named as a finalist for a Lambda Literary Award, a Massachusetts Book Award, the Publishing Triangle's Audre Lorde Award for Lesbian Poetry, and a Believer Book Award.
In addition to outlets such as the Paris Review and the Atlantic, Franny's work has also been featured in Ms. Magazine, NPR's All Things Considered, PBS NewsHour's Brief But Spectacular series, the Angry Asian Man blog, and The Abolitionist, a newspaper that distributes to over 7,000 incarcerated readers. In 2018, her poem "A Guide to Drag Kinging" was set to music by composer LJ White for the piece The Best Place for This; the same year, her poem "Frame" was included in an exhibition of ekphrastic art at the Cassilhaus Gallery in Durham, NC. Her work has been translated into French, Spanish, Japanese, Greek, and Turkish. In 2020, Princeton University's Lewis Center for the Arts awarded Franny the Theodore H. Holmes '51 and Bernice Holmes National Poetry Prize.
A seasoned performer, Franny has been a finalist in competitions including the National Poetry Slam, the Individual World Poetry Slam, and the Women of the World Poetry Slam. She is a two-time winner of the Rustbelt Poetry Slam and has performed her work in schools, conferences, theaters, and bars across the country. As a teaching artist, Franny has taught students of all ages and levels of experience, both in formal classroom settings and through organizations like Project VOICE and InsideOut Literary Arts Project. A Kundiman Fellow and graduate of the VONA Workshop, she founded Brew & Forge, a project to amplify the collective power of writers to help build grassroots movements. As a curator, she has worked with organizations including Split This Rock and the Smithsonian Asian Pacific American Center to highlight the voices of queer and trans poets of Asian/Pacific diasporas. For five seasons, she co-hosted the Poetry Foundation podcast VS alongside Danez Smith. She is currently an editor, along with Bao Phi, Terisa Siagatonu, and No'u Revilla, of a forthcoming anthology of AAPI poetry from Haymarket Books.
Franny has also authored two plays: Mask Dances, which was produced as part of the 2011 Writing is Live Festival in Providence, RI, and Family Style, which was given several staged readings in Chicago in 2017 and won a Hopwood Award for Drama at the University of Michigan. She was formerly the Senior Editor of News, Politics, and Social Justice at Hyphen Magazine and is currently a Poetry Editor at the Massachusetts Review. She is at work an essay collection exploring race, feminism, and robots forthcoming form Ecco Books. She lives in Western Massachusetts.