October 17, 2021: Forrest Gander
---
PLEASE NOTE: This reading will be held live and in-person at the Katonah Village Library at 26 Bedford Road, Katonah, NY and will follow all CDC and state-mandated guidelines. This includes adequate distance between seats and maximum ventilation for the room. We will require all attendees to present ID and proof of vaccination and to wear a mask at all times in the reading room.
Registration is now closed for this reading.
---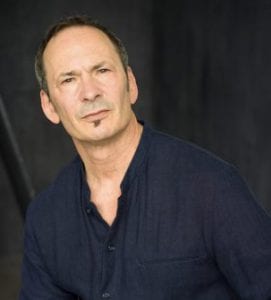 "The quiet complexity of his syntax can build striking abstract landscapes in which the material and spiritual worlds seem equally intelligent." –Tony Hoagland
"Gander's [poems] plunge and swoop up and down the whole scale of earthy, earthly, cerebral, and celestial experience. The ride is for the most part thrilling." —The Boston Book Review
"In the same way that the vocabulary of faith might aid a religious poet in a time of crisis, Gander's deep affinity for the natural world provides a kind of solace." —The New Yorker
Pulitzer Prize-winning Forrest Gander is a poet, writer, translator, and editor of several anthologies of writing from Spain and Mexico. He is celebrated for the richness of his language and his undaunted lyric passion. He is the author of more than a dozen books, including collaborations with notable artists and photographers.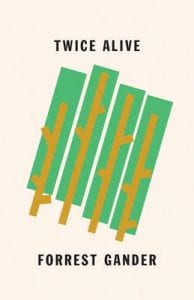 In the searing ecological and love poems of his new collection, Twice Alive (2021), Forrest Gander addresses the exigencies of our historical moment and the intimacies, personal and environmental, that bind us to others and to the world. Drawing from his training in geology and on the tradition of Sangam literature, Gander invests these poems with an emotional intensity that illumines our deep-tangled interrelations. While conducting fieldwork with a celebrated mycologist, Gander links human intimacy with the transformative collaborations between species that compose lichens. Throughout Twice Alive, Gander addresses personal and ecological trauma—several poems focus on the devastation wrought by wild- fires in California where he lives—but his tone is overwhelmingly celebratory. Twice Alive is a book charged with exultation and tenderness.
Gander's collection Be With (2018) won the 2019 Pulitzer Prize for Poetry and was longlisted for the 2018 National Book Award. The Pulitzer Prize Judges citation calls it, "A collection of elegies that grapple with sudden loss, and the difficulties of expressing grief and yearning for the departed." The New Yorker reflects on this book: "Be With is a blurted command welling up from yearnings not quite expressible in language." Gander's partner of more than thirty years, the poet C. D. Wright, died unexpectedly in her sleep in 2016. Later that year, a new volume by Wright, ShallCross, was published posthumously, with a dedication to Gander: "for Forrest / line, lank and long, / be with." Gander borrows his title from that dedication, which reads like a message from beyond the grave. This collection of elegies confirms receipt of the message and returns it. Poetry often creates a supernatural-seeming rapport with the dead, but rarely has the communication between worlds felt so eerily reciprocal. In Be With, he is at once adamant about the ineffability of grief and committed to getting his inchoate "'grief-sounds' somehow into words."
Concerned with the way we are revised and translated in encounters with the foreign, his wide-ranging poetry volume Core Samples from the World (2011)—a collaboration studded with the work of three great photographers, Graciela Iturbide, Raymond Meeks, and Lucas Foglia—was a finalist for the Pulitzer Prize and the National Book Critics Circle Award. Ganders other collections include Eye Against Eye, with photographs by Sally Mann; Torn Awake; and Science & Steepleflower.
He is the author of the essay collection Faithful Existence: Reading, Memory & Transcendence. Other essays have appeared in The Nation, The Boston Review, the New York Times Book Review, and more. Gander's two novels are the gemlike debut As A Friend (2008) and The Trace (2014). In As A Friend, he explores the valences of friendship: eroticism, jealousy, emulation, compassion, betrayal, and loyalty. Jeanette Winterson, in her New York Times review, wrote "In this strange and beautiful novel as in life, love is part of what is sacred. Through love we get a chance to see past our own boundaries — not only into the life of another, but to the edge of life too: the last step off the seeming-solid into the weightlessness of death, its free form." The Trace is a poetic novel about a couple journeying through Mexico, recovering from a world shattered when the car breaks down in the middle of the Chihuahua Desert. Jason Diamond calls the novel a "gorgeous portrait of what some people will do to come to grips with tragedy."
A translator of international renown, Gander's translations include Alice, Iris, Red Horse: Selected Poems of Gozo Yoshimasu; Then Come Back: The Lost Poems of Pablo Neruda; Fungus Skull Eye Wing: Selected Poems of Alfonso D'Aquino which was longlisted for the PEN Award for Poetry in Translation; Pinholes in the Night: Essential Poems from Latin America (with Raúl Zurita); Watchword, the Villaurrutia Award-winning book by Mexican Poet Laureate Pura Lopez Colome; Spectacle & Pigsty (with Kyoko Yoshida), selected poems by contemporary Japanese poet Kiwao Nomura, which won the Best Translated Book Award for 2012; Firefly Under the Tongue: Selected Poems of Coral Bracho, which was a finalist for the PEN Translation Prize; and (with Kent Johnson) The Night by Jaime Saenz.
In 2008, Gander was named a United States Artists Rockefeller Fellow, one of 50 artists to be recognized for artistic excellence, unique artistic vision, and significant contributions to their fields. Gander is also the recipient of fellowships from the National Endowment for the Arts, the Guggenheim, Howard, Whiting, and United States Artists Foundations. He has been a Library of Congress/Witter Bynner fellow and a finalist for the Pulitzer and National Book Critics Circle awards. He is a Chancellor for the Academy of American Poets and an elected member of The Academy of Arts & Sciences.
Gander was a Briggs-Copeland Poet at Harvard University before becoming the A.K. Seaver Professor of Literary Arts & Comparative Literature at Brown University where he taught with his wife, the poet C.D. Wright, for more than twenty years. He lives and works now in Petaluma, California.
The reading begins at 4:00 p.m. EDT followed by Q&A at the Katonah Village Library, 26 Bedford Rd, Katonah, NY 10536.