June 5, 2022: Jenny Xie
"How many lives have been lived inside Jenny Xie's brief life? I'm guessing the number is staggering, as is the wisdom I find in her remarkable debut. She renders the world with such lyric precision, such a quiet hugeness of spirit, such fresh astonishment. Already I am certain Xie's is one of the voices that will help me, quite simply, to live." –Tracy K. Smith
"For a poet so capable of taking readers on far-flung journeys to places like Corfu, Cambodia, and New York, Xie is perhaps most remarkable for her ability to take readers deeper inside themselves than they have ever been. Xie's work is just a thing of pure, piercing beauty." – NYLON
"A magician of perspective and scale." – The New Yorker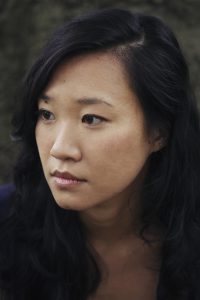 Jenny Xie was born in Hefei, China, and raised in New Jersey. She is the author of Eye Level (Graywolf Press, 2018), which was selected by Juan Felipe Herrera for the Walt Whitman Award of the Academy of American Poets. Eye Level received the Holmes National Poetry Prize from Princeton University, and was named a finalist for the National Book Award and a PEN Open Book Award, and longlisted for the Dylan Thomas Prize. Her chapbook, Nowhere to Arrive, won the Drinking Gourd Prize, and was published by Northwestern University Press.
About Xie's debut poetry collection, Eye Level, the former U.S. Poet Laureate Juan Felipe Herrera writes: "We go places; we enter multiple terrains of seeing; we cross cultural borders of time, voices, locations—of consciousness. Then—we notice we are in a trembling stillness with all beings and all things. Jenny Xie's Eye Level is a timely collection of beauty, clarity, and expansive humanity."
Xie holds degrees from Princeton University and NYU, and has received grants and support from Kundiman, the Fine Arts Work Center in Provincetown, the Elizabeth George Foundation, and Poets & Writers. Her work appears in Poetry, The New York Times Magazine, and Tin House, among other publications.