April 24, 2022: Arthur Sze
---
Please note: The in-person reading at the Katonah Village Library does not require registration. Admission fee ($15) can be paid at the door.
To attend the reading on Zoom, please click on this registration link. Fill out the form and pay admission fee ($15) via credit card or PayPal.
---
"This book is an overwhelming feast, a treasure, and more than enough proof that Sze is a major poet." ―NPR
"The poems in Arthur Sze's The Glass Constellation, which span 50 years of a singular luminous career, are a cosmos. What might it mean to exist as a human being in a particular moment in the intricate and interconnected webs of time and space is a quest and a question in poem after poem." — Lisa Russ Spaar, On the Seawall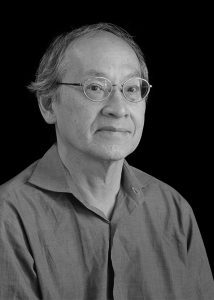 Arthur Sze has published eleven books of poetry, including Sight Lines (2019), which won the National Book Award, and The Glass Constellation: New and Collected Poems (2021). His other books include Compass Rose (2014), a Pulitzer Prize finalist; The Ginkgo Light (2009), selected for the PEN Southwest Book Award and the Mountains and Plains Independent Booksellers Association Book Award; Quipu (2005); The Redshifting Web: Poems 1970–1998, selected for the Balcones Poetry Prize and the Asian American Literary Award; and Archipelago (1995), selected for an American Book Award. He has also published one book of Chinese poetry translations, The Silk Dragon (2001), selected for the Western States Book Award, and edited Chinese Writers on Writing (2010). Sze is the recipient of many honors, including the Jackson Poetry Prize from Poets & Writers, a Lannan Literary Award, a Lila Wallace-Reader's Digest Writers' Award, a Guggenheim Fellowship, two National Endowment for the Arts fellowships, a Howard Foundation Fellowship, and five grants from the Witter Bynner Foundation for Poetry. His poems have been translated into a dozen languages, including Chinese, Dutch, German, Korean, and Spanish. A fellow of the American Academy of Arts and Sciences, he is a professor emeritus at the Institute of American Indian Arts and was the first poet laureate of Santa Fe, New Mexico, where he lives.
For current Covid-19 Guidelines: please check this page on the Katonah Village Library site.