April 19, 2015, 4 p.m. Jorie Graham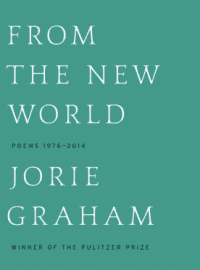 Pulitzer Prize-winning poet Jorie Graham will read from her 2015 collection From the New World: Poems: 1976-2014 (Ecco Press, February, 2015), one of the year's most-anticipated books of poetry.  A major voice and innovator in American poetry, Graham has authored thirteen volumes of internationally acclaimed and widely translated poetry, as well as edited two poetry anthologies.  She is recognized for addressing critical philosophical, sociopolitical, and environmental concerns in her poetry and has been lauded as "our most formidable nature poet" (Publishers Weekly).  Her many awards include a Whiting Award, a John D. and Catherine T. MacArthur Fellowship, the 2013 Nonino Prize and the Morton Dauwel Zabel Award from the American Academy and Institute for Arts and Letters.  She taught for many years at the University of Iowa Writers Workshop and is currently the Boylston Professor of Rhetoric and Oratory at Harvard.
From the New World was recently reviewed in the New York Times Book Review.
"Graham is to post-1980 poetry what Bob Dylan is to post-1960 rock: She changed her art form, moved it forward, made it able to absorb and express more than it could before. It permanently bears her mark."   —New York Times Book Review, 2/27/15
"In the last three books — "Overlord," "Sea Change" and "Place" — Graham has embraced the role of protest poet, raging against the culture of war and continuing environmental degradation. She has also woven into these poems some of her most moving personal statements."  —New York Times Book Review, 2/27/15
Ms. Graham is a central figure in the last four decades of American poetry. Her poems, with their long verse lines and Emily Dickinson-like dashes, are as instantly recognizable as Joni Mitchell's voice on a turntable." New York Times, Dwight Garner, 2/11/15