Nov. 17, 2019: Deborah Landau
Deborah Landau is the author of four collections of poetry: Soft Targets (2019); The Uses of the Body (2015); and The Last Usable Hour (2011), both Lannan Literary Selections from Copper Canyon Press, and Orchidelirium (2011), selected by Naomi Shihab Nye for the Robert Dana Anhinga Prize for Poetry. Her other awards include a Jacob K Javits Fellowship from the US Department of Education and a Guggenheim Fellowship.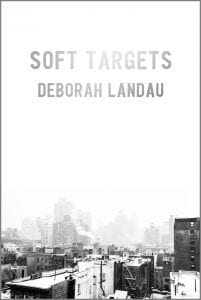 The Uses of the Body was featured on NPR's All Things Considered, and included on "Best of 2015″ lists by The New Yorker, Vogue, BuzzFeed, and O, The Oprah Magazine, among others. A Spanish edition, Los Usos Del Cuerpo, was published by Valparaiso Ediciones in 2017.
Her work has appeared in The New Yorker, The Paris Review, Tin House, American Poetry Review, Poetry, The Wall Street Journal, and The New York Times, and included in anthologies such as The Best American Poetry, Please Excuse This Poem: 100 New Poets for the Next Generation, Not for Mothers Only, Resistance, Rebellion, Life: 50 Poems Now, The Best American Erotic Poems, and Women's Work: Modern Poets Writing in English.
Landau was educated at Stanford University, Columbia University, and Brown University, where she was a Javits Fellow and received a Ph.D. in English and American Literature. She teaches in and directs the Creative Writing Program at New York University, and lives in Brooklyn with her family.
The reading begins at 4:00 p.m. followed by Q&A, reception and book signing. Copies of Landau's books will be available for sale at the reading.
Read Ann van Buren's Interview with Deborah Landau.