May 31, 2020: Diana Goetsch
PLEASE NOTE: The reading will be offered free remotely on Zoom. We appreciate your donations of any amount.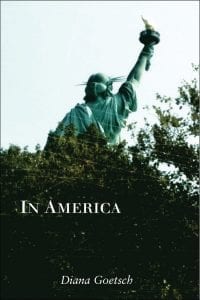 Diana Goetsch is an American poet, author of eight collections, including In America (a 2017 Rattle Chapbook Prize selection), Nameless Boy (2015, Orchises Press) and The Job of Being Everybody, which won the 2004 Cleveland State University Poetry Center Open Competition and contains her poem "Young Italians." Her memoir, This Body I Wore, is scheduled for publication in fall of 2021.
Her poems have appeared in leading magazines and anthologies including The New Yorker, Poetry, The Gettysburg Review, The Iowa Review, Ploughshares, The Southern Review and Best American Poetry. She is also a nonfiction writer and columnist, author of essays on subjects ranging from baseball history to medical ethics to political messaging. From 2015-16 she wrote the "Life in Transition" blog at The American Scholar, where she chronicled her gender transition, along with issues faced by America's newest visible minority. Her honors include fellowships from the National Endowment for the Arts, the New York Foundation for the Arts, the Donald Murray Prize for writing pedagogy, and a Pushcart Prize.
Diana Goetsch was born Douglas Goetsch in Brooklyn, NY and grew up in Northport, Long Island, where she graduated high school. She attended Wesleyan University (BA, Religion), New York University (MA, American Civilization) and Vermont College of Fine Arts (MFA, Poetry). For 21 years she was a New York City public school teacher, at Stuyvesant High School, where she taught gifted and mostly immigrant children, and at Passages Academy in the Bronx, where she ran a creative writing program for incarcerated teens. In 2001, she founded Jane Street Press, a unique, zero-profit press dedicated to publishing undiscovered masters of American Poetry. She has trained and performed as a concert jazz dancer, practices meditation daily, and is an authorized meditation instructor in the Tibetan Buddhist lineage of Chogyam Trungpa.
Goetsch's poetry has been praised for its warmth, range and daring. Dick Allen called her writing "searing, honest, vivid, moving, unflinching" and B.H. Fairchild calls her "one of the most comically serious, hip poets we have." She is interested, as she says in a recent interview, in every subject under the sun: love, sports, politics, childhood, gender, education, incarceration, spirituality, and pop music. Goetsch has been cited as one of the few white poets willing to write on the subject of race in America; her prize-winning poem "Black People Can't Swim" was featured in Tony Hoagland's essay "Going Crosstown: Four Poems About Race by White People."