May 5, 2019: Alan Shapiro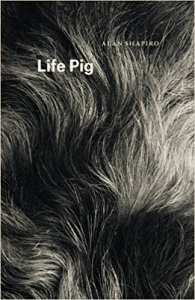 Alan Shapiro has published over ten books of poetry, most recently Life Pig (2016); Reel to Reel (2014), a finalist for the Pulizer Prize; Night of the Republic (2012), a finalist for the National Book Award and the Griffin Prize; and Old War (2008), winner of the Ambassador Book Award. A memoirist, essayist, translator, and novelist, as well as a poet, Shapiro has also authored the memoirs Vigil (University of Chicago Press, 1997) and The Last Happy Occasion (University of Chicago Press, 1996). He published his first novel, Broadway Baby (Algonquin Books), in 2012.
Shapiro has received the Kingsley Tufts Award, a Los Angeles Times Book Award in poetry, a Lila Wallace-Reader's Digest Writers' Award, two awards from the National Endowment of the Arts, a Guggenheim fellowship, the O. B. Hardison Jr. Poetry Prize from the Folger Shakespeare Library in Washington, D.C., the Sarah Teasdale Award from Wellesley College, and an award in literature from the American Academy of Arts and Letters.
Born in Boston, Massachusetts, Alan Shapiro was educated at Brandeis University.