June 6, 2021: Rosanna Warren
---
REGISTRATION: Please go to this link.
Fill out the form and you will receive the Zoom link to the reading via email.
---
This reading is offered free, but donations to KPS are gratefully appreciated.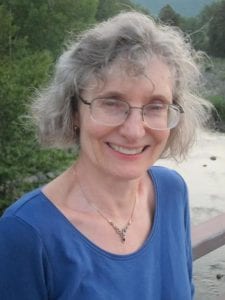 Rosanna Warren was born precipitously on July 27, 1953, on the kitchen floor of the cottage her parents were renting in Connecticut. Her father delivered her. Her life has calmed down since her arrival. Her parents, Robert Penn Warren and Eleanor Clark, were both writers. Her brother, Gabriel Warren, is a sculptor.
Though home base was always Connecticut, the family spent long periods in remote villages in Italy and France. Warren studied painting and comparative literature at Yale University, graduating in 1976. After several years of writing, painting, and odd jobs in Paris, Venice, and New York, she attended the Writing Seminars at Johns Hopkins University, receiving her M.A. degree in 1980. She taught for one year in the Department of English at Vanderbilt University and then joined the faculty of Boston University, where she taught in the departments of English and Modern Foreign Languages until her departure in 2011. She also taught for several years in several medium security prisons in Massachusetts and published pamphlets of poems by prisoners. Since 2012 she has been the Hanna Holborn Gray Distinguished Service Professor in the Committee on Social Thought at the University of Chicago.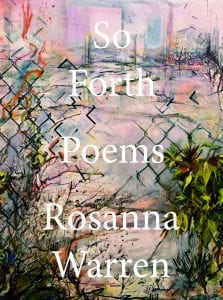 Her book of criticism, Fables of the Self: Studies in Lyric Poetry, came out in 2008. Her most recent books of poems are So Forth (2020), Departure (2003) and Ghost in a Red Hat (2011). In 1995, Oxford University Press published the verse translation of Euripides' The Suppliant Women she composed with Stephen Scully, and her anthology of essays on translation, The Art of Translation: Voices from the Field, appeared in 1989. She is the recipient of awards from the Academy of American Poets, The American Academy of Arts & Letters, the Lila Wallace Foundation, the Guggenheim Foundation, the American Council of Learned Societies, and the New England Poetry Club, among others. She was a Chancellor of the Academy of American Poets from 1999 to 2005, and is a member of the American Academy of Arts and Letters, the American Academy of Arts and Sciences, and the American Philosophical Society.
The reading via Zoom begins at 4:00 p.m. EDT followed by Q&A. To register: Please go to this link. Fill out the form and you will receive the Zoom link to the reading via email.